I've been grappling about what to say for days as it relates to the protests and the movement in the light of the killing of George Floyd, Ahmaud Arbery, Breonna Taylor, and so many more innocent Black people. 
I've felt helpless and depressed about it all. I have no idea what it is like to experience racism, let alone carry the incredibly heavy weight of other's judgement and preconceived notions throughout life. I have no idea what it's like to be stopped by police because of the color of my skin. I have no idea what it's like to fear my own life after being stopped by police. I wasn't educated on how to avoid run-ins with the police from childhood. The systemic racism in our country has only been a silent helper in my life, my parent's and grandparent's lives, and up the family tree from there. Therefore, I have had the luxury of ignoring systemic racism in my day-to-day life, instead of having no choice but to face it head-on like so many do. For me, it's existed as a headline or a page in our country's appalling history to mourn – up until now. We all need to make the conscious decision to face racism directly, see our faults and our inherent biases, and work to suck the poison out bit by painful bit.
With my schpiel said, I now realize that I can't find more to say on this gut-wrenching topic because it's not my turn to speak. It's my turn to step back and to listen. It's my turn to be an ally in the movement. It's my turn to learn and absorb as much as I can. We need to use every platform we can to amplify Black voices and hear their stories – throughout this movement and well into a brighter future for all people.
So much needs to change that it's overwhelming. But the best starting point is yourself – what you choose to absorb and the actions you choose to take.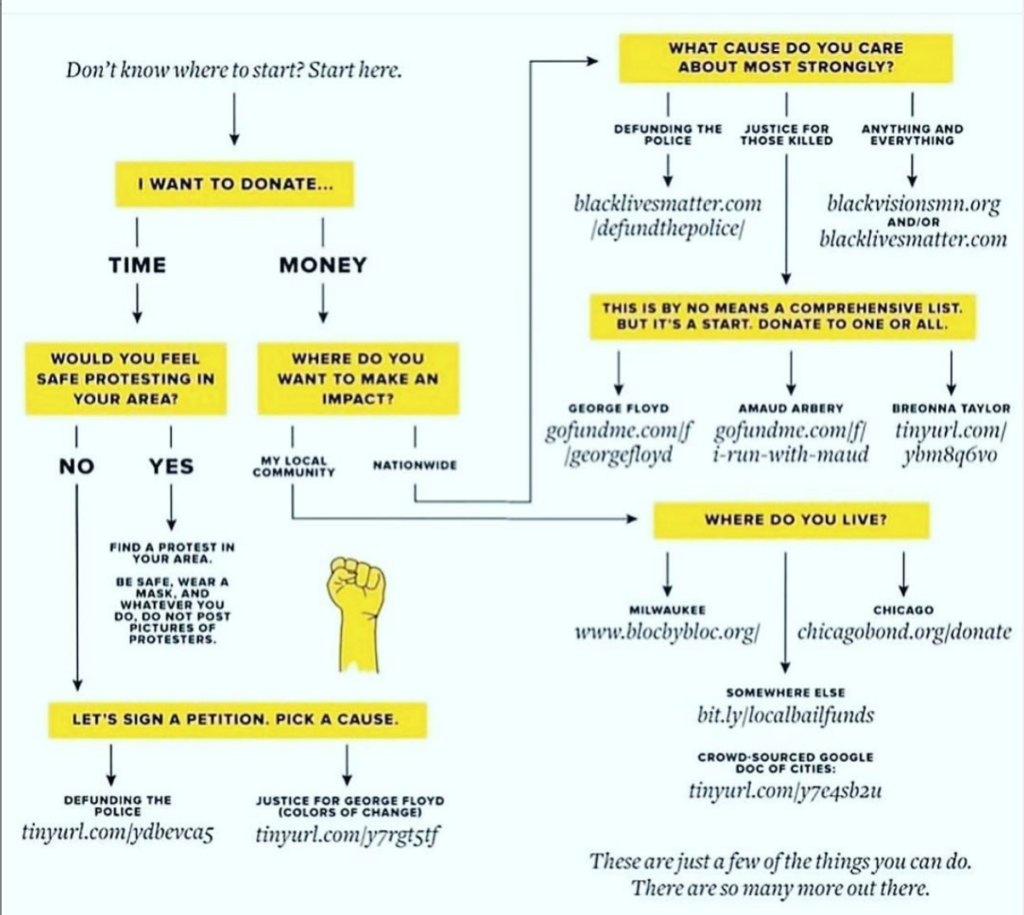 Here are some resources I've found helpful:
LEARN

Justice in June: "Step one on becoming an ally in the black community".
Suggested: Beloved by Toni Morrison and The Color Purple by Alice Walker

ACT

Donate, sign a petition, or join your local peaceful protest. See Section #4 for a few more ideas on where to donate. Above is a great chart from Stephen (tWitch) Boss on how to take action.

FOLLOW

Note: These are just a few of my Instagram account suggestions. I am still working to educate myself and find great POC to follow. I suggest you do your own research as well.
Patrisse Cullors-Brignac @osopepatrisse. She's the founder of another great account (and incredible movement) @blklivesmatter
Phoebe Robinson – @dopequeenpheebs
Know Your Rights Camp – @yourrightscamp – a campaign for youth founded by Colin Caepernick
Ibram X. Kendi @ibramxk – Author of NYT's bestselling book How to be Antiracist

DONATE

A few more ideas (of so many). Also, see tWitch's graph above.
Donate directly to the victims: George Floyd, Ahmaud Arbery, Breonna Taylor
Your local Boys and Girls Club

DO YOUR RESEARCH

Support local Black and minority-owned businesses.
Unfollow accounts and don't support businesses that are not taking a stand or, worse, continuing to post irrelevant content.

LISTEN

Listen to what people in the Black community have to say. Hold space for them and support them. For white folks out there like myself, DO NOT make yourself the center of this movement. You are an ally and you can show up to support Black Lives Matter but you are not directly affected by this issue like the black community. You can practice sympathy, but empathy is impossible in this case because there is no way for you to truly take on the struggle that so many black people have to carry throughout their lives.
Do NOT correct the Black Lives Matter movement by saying "All Lives Matter". WE KNOW that all lives matter. The focus is on black lives and the fact that for the last 400 years, this country and society have perpetuated the idea that black lives are somehow worth less. THAT is the point of this movement.